All-In-One Motel Management Software
Save time, money, and reduce headaches with easy to use motel management software built for modern motel owners
Trusted by 1,000s of Independent Property Owners.
"It was an easy transition from our previous PMS and customer support is excellent! The system was really easy to learn and easy to train. I am very happy with the choice we made by choosing innRoad."
"Guests are reserving 24/7 using innRoad linked to our website. In addition, we're receiving reservations from Expedia and Booking.com seamlessly. We have seen a 20% increase in room revenue!"
"We rent 50 units and have used innRoad for several years now, and it has allowed our business to grow. It is cost effective, very user friendly, and allows direct integration of all OTAs."
Easy to Learn, Easy to Use
innRoad's intuitive motel management software includes everything needed to manage your motel, along with the flexibility desired to ensure you can continue running your business your way.
Creating reservations, taking payments, managing check-ins, and check-outs could not be easier.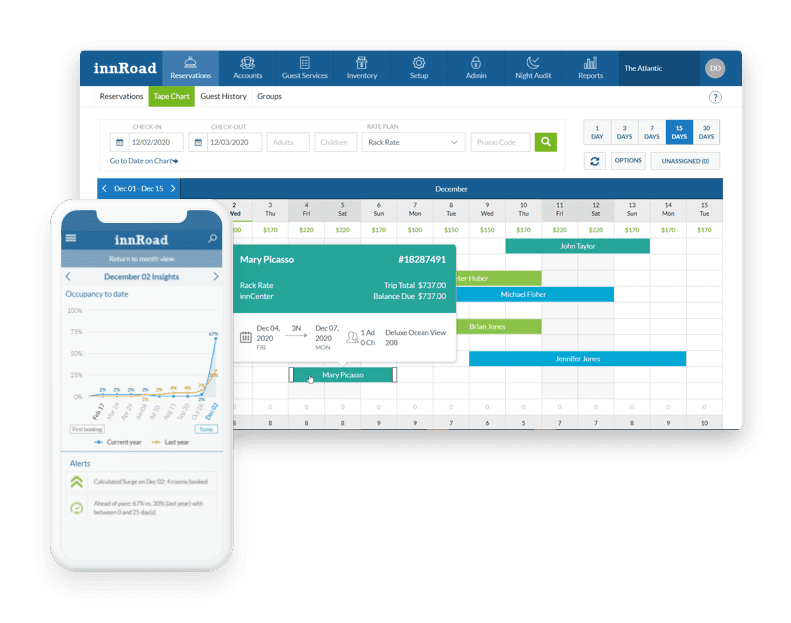 Unlimited, live training with 24/7 support

Full system setup including rates, room classes and OTA connections
Booking Engine design and direct booking optimization to save you money on OTA commissions
Our onboarding team is comprised of former hospitality professionals who have set up thousands of motels. They focus on every detail, to ensure everything is migrated smoothly (including past and future reservations) and our live on-going training ensures that your motel remains fully operational during the transition, and that you are completely comfortable using the software immediately afterwards.
Don't Miss Out On Opportunities
Our motel management software keeps you up to date with the latest activity by sending alerts in response to unexpected booking activity. For example, what if a big event or concert in town was rescheduled and your staff didn't hear about it in time? You'd miss an opportunity to update your rates and generate new business from an unexpected event. With innRoad's surge alerts, you will be notified in time to make changes to your rates and policies.
Your guest's experience starts on your booking engine
Did you know 61% of guests believe a property's booking process is likely to be a reflection of a property's service? Does your motel's booking engine help make an excellent first impression? Our high-converting booking engine software drives occupancy by making bookings easy, allowing guests to view all available properties and providing a safe and secure experience from booking to payment processing.
We Have The Partner Integrations You Need
Point of Sale, Door locks, PBX & More
Hundreds of payment gateways and processors
Hundreds of Online Travel Agents and the Global Distribution System
Ready to grow your business? Get a customized demo today!