Improved Efficiency for Lodges and Resorts
Save time, money, and reduce headaches with our easy to use, all-in-one property management solution.
Property Management, Simplified
Organize your business, increase revenue, save time and WOW Your Guests!
Trusted by 1,000s of Independent Property Owners.
"It was an easy transition from our previous PMS and customer support is excellent! The system was really easy to learn and easy to train. I am very happy with the choice we made by choosing innRoad."
"Guests are reserving 24/7 using innRoad linked to our website. In addition, we're receiving reservations from Expedia and Booking.com seamlessly. We have seen a 20% increase in room revenue!"
"We rent 50 units and have used innRoad for several years now, and it has allowed our business to grow. It is cost effective, very user friendly, and allows direct integration of all OTAs."
Easy to Learn, Easy to Use
innRoad's intuitive property management software is built for properties that rely on seasonal front desk staff in mind. Creating reservations, taking payments, check-ins, and check-outs could not be easier.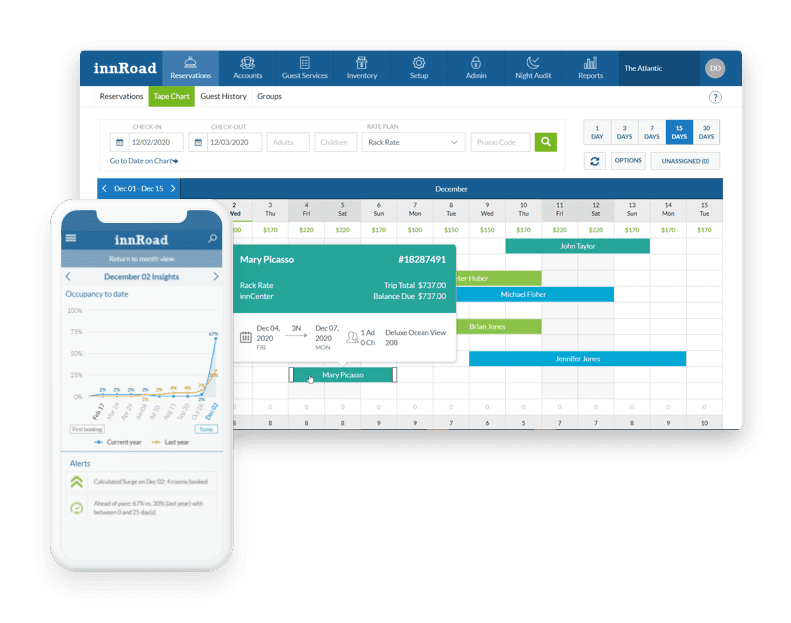 Unlimited, live training with 24/7 support

Full system setup including rates, room classes and OTA connections
Booking Engine design and direct booking optimization to save you money on OTA commissions
Our onboarding team is composed of former hospitality professionals who have set up thousands of hotels and resorts. They focus on every detail, supporting your team using our hotel reservation system software. This way, you don't spend time away from what matters most, your guests.
Your guest's experience starts on your booking engine
Did you know 61% of guests believe a property's booking process is likely to be a reflection of a property's service? Does your property's booking engine help make an excellent first impression? 
Our property management software drives occupancy by making booking easy, allowing your guests to view all available rental options and providing a safe and secure experience from booking to payment processing.
Don't Miss Out On Opportunities
Our property management software keeps you up to date with the latest activity by sending alerts in response to unexpected booking activity. If there's a sudden increase in activity, you will be notified in time to make changes to your rates and policies to ensure your'e not missing out on a new opportunity.
Show Up Where Potential Guests are Searching
Make double-bookings a thing of the past
Manage your inventory in real-time in fewer clicks
Clients typically see a 30% increase in bookings 
Ready to grow your business? Get a customized demo today!